Product Description
This 6C100F Sheave uses a F QD bushing, is directly interchangeable with other manufacturers, is 10.40" in diameter, and is manufactured in accordance with ARPM Standard for safe operation. While the phosphate coated and then painted finish adds corrosion resistance to the 6C100F sheave. This sheave is balanced at the factory it runs smoother which gives bearings and other components of the equipment a longer working life. Using the high-strength cast iron grade that we do offers a higher tensile strength and is more wear resistant than the more commonly used grades. What separates this 6C100F sheave from the others is that it is made using a high strength cast iron, is phosphate coated, painted, and balanced at the factory.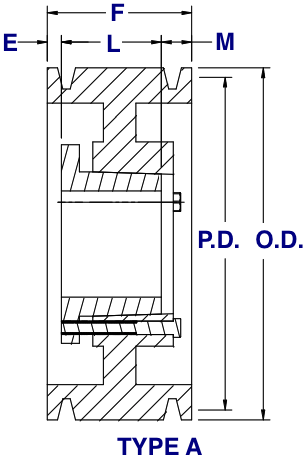 Sheave Size: 6C100F
Bushing Type: F
Bore Range: 1" - 4"
Sheave Type: A
Pitch Diameter (P.D.): 10.0"
Outside Diameter (O.D.): 10.40"
Dimension (E): 1-1/32"
Dimension (F): 6-1/4"
Dimension (L): 3-3/4"
Dimension (M): 1-15/32"
Product Videos
Custom Field
Product Reviews